"100% flawless"
Where do I even begin when it comes to Nicole Pilla & the beautiful works of art she creates from bare already beautiful faces? I met Nicole when I was doing my first NPC bikini competition. I went to school for cosmetology so I had my own hair on point but I knew I'd need a miracle worker to pull off gorgeous stage make up. I was one of the last girls to get my make up done before rushing over to the stage. Nicole had it all figured out though so I didn't have to panic about being late. Her and I clicked instantly, she got right to work and when she was finished, I swear I had never looked more beautiful. As if this wasn't enough, I spent my entire day from 8am to nearly 10:30pm in this make up, even nearly 14 hours later, it was still 100% flawless. I even went out for a celebration dinner after the competition and took tons of pictures with friends and family, my make up? STILL perfect. Nicole is so professional, sweet and knows her business. Anyone looking for make up for any event, NEEDS to give Nicole a call.
-Alicia Jannicelli
"...she also saved the day at my wedding"
Nicole is simply an artist. She did my make up for my bridal shower and wedding, including my bridesmaids. Every time some sees pictures from my wedding, they cannot believe how amazing the makeup came out. On top of her amazing makeup skills, she also saved the day at my wedding. One of my dear friends who is also a makeup artist was supposed to do my makeup and she bailed last minute. Nicole managed my problem nicely and got my makeup done perfectly. I still to this day cannot grasp how beautiful she made me look on my special day. I would highly recommend her to anyone. Thank you so much Nicole! You're amazing! I look forward to working with you in the future!
-Meghan Solimine
"Nicole came to the rescue to save the day."
With less than a month away from wedding this past November, the salon I booked for hair & makeup up changed the price on our contract.
Nicole came to the rescue to save the day. She managed to do make up for 5 women, including me the bride. She was professional in manner, friendly and funny. She managed her time perfectly and each of us was more than impressed with her talent. I highly recommend Nicole Pilla for any make up needs for any occasion.
-Celeste Dittamo (Colón)
"Nicole was the best gift on my wedding day!"
Nicole was the best gift on my wedding day! When my makeup artist cancelled last minute on me , a friend of mine recommended her to do the makeup for my bridal party and myself. I am so happy she was able to do it! First of all she is a very sweet person. Second, her makeup skills are amazing (and this is coming from a very picky makeup artist myself, but no way was I doing makeup on my wedding day!) My girls, my mother and my mother in law looked absolutely beautiful. She really knows how to keep the skin looking natural but done up. I would recommend her to anyone that asks me.
-Vanessa Oliviero
"I had total trust that Nicole was the one"
I just want to thank Nicole for being part of my wedding day a couple of months ago. We were all thrilled with the make-up. It was everything I had hoped for and feeling beautiful and confident thanks to her handiwork: she contributed to making it the happiest day of my life. We went over a couple of looks and trials beforehand and I had total trust that Nicole was the one! My bridesmaids still mention how great she was to them and how beautiful they felt that day. I am still so thankful– I wouldn't hesitate to recommend her to other brides!
-Jaime Ortega
"I wish I could have her do my make-up every day."
I've known Nicole personally for many years and have watched her blossom with her creativity over those years. Not only is she one of the most personable people I've ever met, she's is extremely talented as well. So when it came time for my cousins wedding, it was only natural that I would call upon her to do my make-up. She was so thorough and detail oriented- even asked for pictures of my dress and any make-up inspirations I fancied- I knew I was in great hands. To say I was happy with my look for that evening would be a HUGE understatement! I loved it so much I didn't want to take it off at the end of the night. I felt so beautiful and flawless!! I received so many compliments from friends and family. I wish I could have her do my make-up every day. A girl can dream right? If you're looking for someone who is professional, creative, and highly skilled than look no further. Nicole embodies the word "artist." It was truly a pleasure to work with her.
-Justine Fricchione
"A magician with my eye makeup!"
Nicole did a beautiful job on my makeup for my first NPC competition. It blended perfectly with my skin and my suit, and it lasted all day. Nicole used her own creativity and artistic eye to make me look my best. She was a magician with my eye makeup! She helped me to feel beautiful and confident on the stage and put me at ease while working on my makeup. I would highly recommend her as a makeup artist to anyone- she was hands down amazing and I can't wait to have her do my makeup again!
-Kaitlin Weingartner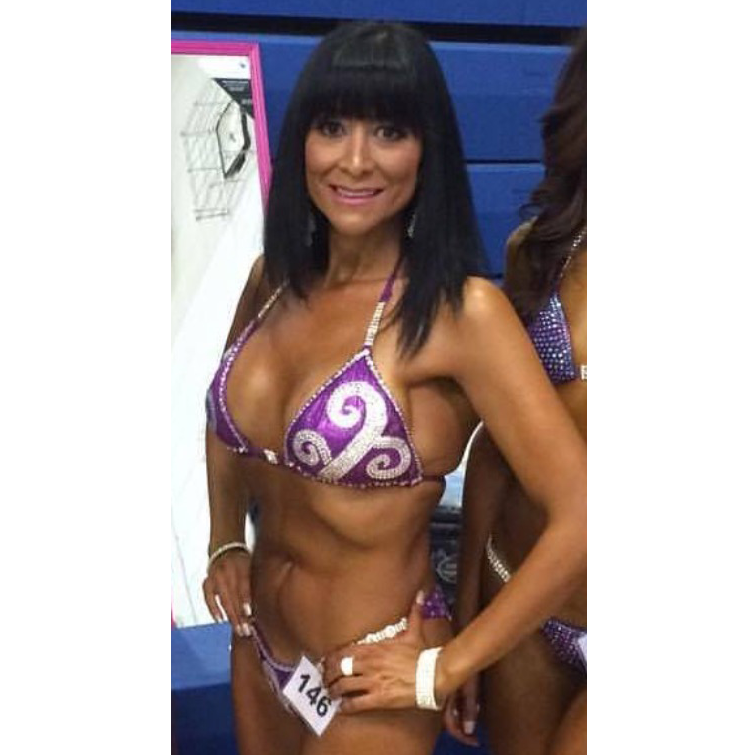 "You will not be disappointed."
In November of 2015, I decided to do my first Bikini NPC Competition at age 51. As a newbie I wanted everything to be perfect for my first show. Nicole Pilla was recommended by my coach. Nicole had worked with her team in the past and with many other competitors in the business and came highly recommended with a solid, professional reputation.
Show day could not have started any better - as I sat in Nicole's chair she helped calm my nerves as she worked her magic. Not only did she match my makeup perfectly to my tan, but she did exactly what I had requested regarding colors, covered all my skin imperfections and her application and technique were flawless. My makeup was perfectly intact for over 15+ hours.
I'm looking forward to working with Nicole in my next show and I'm confident that my makeup will once again be perfect! I highly recommend using Nicole for your next show - you will not be disappointed.
Thank you Nicole - you are a true artist.
-Sandy Molon
"Nicole is a true artist."
Nicole is a true artist. I had the pleasure of having her for my make up artist for my first bodybuilding competition. She immediately put my nerves at ease, taking the needed breaks for me to get my sticky peanut butter face ready. I left my face in her hands only telling her my suit color. I think the pictures speak for themselves. On stage and at the end of a very long day my make up stayed perfectly! If you want someone that loves what they do and projects that love for your special day then you've found her!
-Catherine Zsamba
"She made me feel fabulous!"
I found Nicole through one of my girl friends who used her for her wedding this past summer. Nicole is very friendly and professional, and captured what I was looking for. I never had airbrush makeup done before so I did not know what to expect. It felt so light, in fact, it felt as if I wasn't wearing any makeup at all, yet gave great coverage. I felt comfortable in my own skin, as opposed to feeling like I had a face full of makeup.
Recently, I had Nicole do my New Years Eve makeup. I did not know what look I wanted to go for, however, I put my trust in Nicole and with no doubt, and my makeup was yet again flawless. She made me feel fabulous! What girl wouldn't want to be like that?! I will be using Nicole for every event in my future. I highly recommend Nicole to anyone that comes across looking for a professional makeup artist.
-Danielle Monoforte
"It was exactly what I envisioned plus some."

My experience with Nicole glamming me up backstage at my show was amazing! She took my ideas and brought it to life to match my suit, hair color etc. Nicole was early and ready to go as soon as i got to the venue. I felt extremely beautiful after she transformed this tom boy into a gorgeous girly girl. The makeup was subtle but popped on stage. It was exactly what I envisioned plus some. I will forever be one of clients for show day and anytime i need to get glammed up.
-Kathryn Couillou